American Owned & Operated - 100% American Based Customer Service - Trusted for Over 24 Years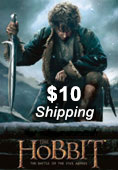 Helmet of Sauron
Lord of the Rings Swords and The Hobbit Movie Swords for sale are crafted exclusively by United Cutlery. These officially licensed movie swords are designed from the actual film props made by Weta Workshop of New Zealand. Choose from popular movie swords like the Sting Swords of Frodo and Bilbo Baggins, Anduril Swords of Aragorn, the famous Glamdring Sword of Gandalf the Wizard and more. Replicas from The Hobbit Swords collection include the Orcrist Sword of Thorin Oakenshield, King Thranduil Swords, Fighting Knives of Tauriel, Elven Swords, Staffs and other popular replicas. These officially licensed film collectibles include displays and certificates of authenticity. Buy the official Lord of the Rings and Hobbit Movie collectibles on sale now.
Custom Laser Engraving Services - Etch Up To 60 Characters For Only $25
Personalize For Holidays, Awards & Celebrations - Services Can Be Added At Checkout
Official Helm of Sauron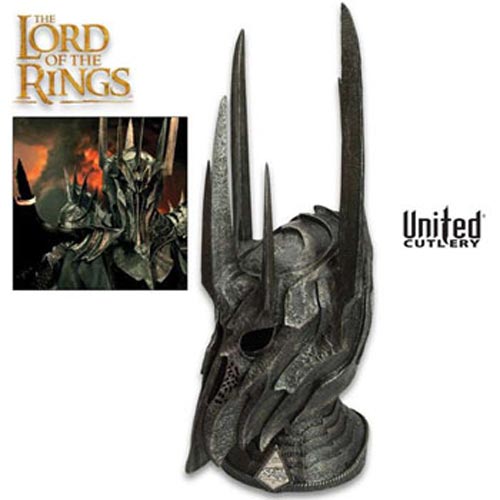 Hobbit Movie Swords:
Helmet of Sauron
Includes Display Stand
$369.99
Limited Supplies
Item Number: UC2941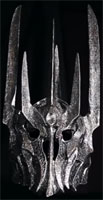 War Helm of Sauron for sale is just like the one worn by the powerful villain in the Hobbit movies. These pieces are an exceptional replica of the real prop that was manufactured by Weta Workshop of New Zealand for the films. These massive helmets even feature the same color finish as the prop used in the Hobbit movies. There are only 1,500 of the Helmet of Sauron produced in this limited edition collection. The War Helm of Sauron measures an enormous 33 ½ inches on the stand. The helmet is wearable and features a padded interior. Made by United Cutlery, this officially licensed helmet includes a certificate of authenticity. The helmet also includes a display stand which is modeled after the upper torso armor worn by Sauron. Buy the popular War Helm of Sauron for $369.99.
Out of Stock

Website Copyright 2002-2019 NGW, All Rights Reserved. Any duplication of website, text or images is strictly prohibited.